Bark and Mulch for the Holland area
Autumn Ridge Stone is proud to be the leading bark and mulch supplier in the Holland area and West Michigan area. Accurate and quick deliveries that fit in your schedule.
Save time and money when you place and order for a bark deliver
We keep your records in the computer from year to year of what you ordered. This helps taking all the guessing out of how much bark or mulch you need each year. So if you have too much one year or not enough we keep track so next year you get exactly what you need. Simply call us and we can look up your orders.
Bark Calculator
If you are not sure how many yards you need be sure to check out the calculator.
Special loader that loads bark and mulch in your truck and not on it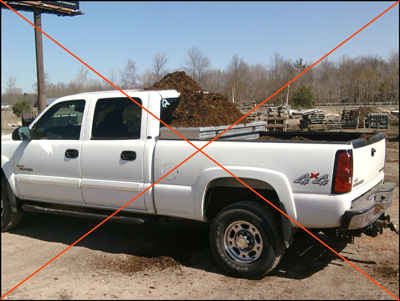 * Color enhanced mulch holds its color much better if it remains dry for 24 hours after it is spread in your beds. Do not spread if rain is predicated or spread when it is raining. The color can "wash" out of the wood and look like it has faded.
Dark Brown Color Enhanced Mulch
Great vibrant color that will hold its color all year
Made of recycled dried wood products
Breaks down at a slower rate vs bark
Reduces weed growth
Retains moisture in soil
Lite Brown Color Enhanced Mulch
Great vibrant color that will hold its color all year
Made of recycled dried wood products
Breaks down at a slower rate vs bark
Reduces weed growth
Retains moisture in soil
Black Color Enhanced Mulch
Great vibrant color that will hold its color all year
Made of recycled dried wood products
Breaks down at a slower rate vs bark
Reduces weed growth
Retains moisture in soil
Red Color Enhanced Mulch
Great vibrant color that will hold its color all year
Made of recycled dried wood products
Breaks down at a slower rate vs bark
Reduces weed growth
Retains moisture in soil
Hardwood Bark Mulch
Double ground bark and mulch
Extra fine texture
Reduces weed growth
Retains moisture in soil
Shredded Bark
Double ground bark
Fine texture
Reduces weed growth
Retains moisture in soil
Cedar Bark
Premium double ground cedar bark
Great cedar smell
Natural deterrent for insects
Reduces weed growth
Retains moisture in soil
Play Ground Mulch
Play ground mulch wood
Natural Wood chip fines. Used for playgrounds and landscape beds
Made of recycled dried wood products
Breaks down at a slower rate vs bark
Reduces weed growth
Retains moisture in soil